Pentagon Food Group is Food service distribution company located in Stoke on Trent, UK. Serving Ambient, Frozen and Chilled Food types to East and West Midlands. Started its operations in 2007 they weren't focusing on digital marketing other then a few posts about events or special updates on Facebook. In terms of SEO only GMB was setup and website have an old tabular structure. We were given the reigns of its digital marketing at the start of 2020. Their customers included Takeaway, Café, Food stall and Restaurant owners.
7 Tides Digital developed comprehensive SEO strategy for Pentagon Food Group. We utilized the advanced on-page and off-Page SEO techniques that served Pentagon Food Group to boost their online presence. We have also used the latest keyword research tools to boost their website ranking and bring it on the first page of Google search results with the help of the most relevant keywords.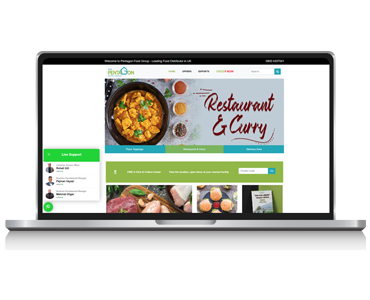 Pentagon Food Group is a B2B business, thus, it is very important for it to reach its niche target base of food service businesses in UK. 7 Tides Digital has been successfully helping Pentagon Food Group in reaching its target market by improving its online visibility, establishing SEO campaigns which brings Pentagon Food Group in front of UK food service industry.
The following graphs show our client's achievements in website traffic and keywords ranked on google 1st page after using our SEO services.
To enhance your digital presence, Contact Us!